Destination Wedding in Japan
Being in a foreign place with all your loved ones gathered together is an exceptionally special experience, one that most would always remember. More often than that, pre or post events following the wedding ceremony or reception will be arranged and couples tend to spend a lot more effort to dedicate their time and attention to their guests. That is what we really love about destination weddings.
Japan needs no introduction – it boasts of its four seasons, each distinctively different and nonetheless breathtaking.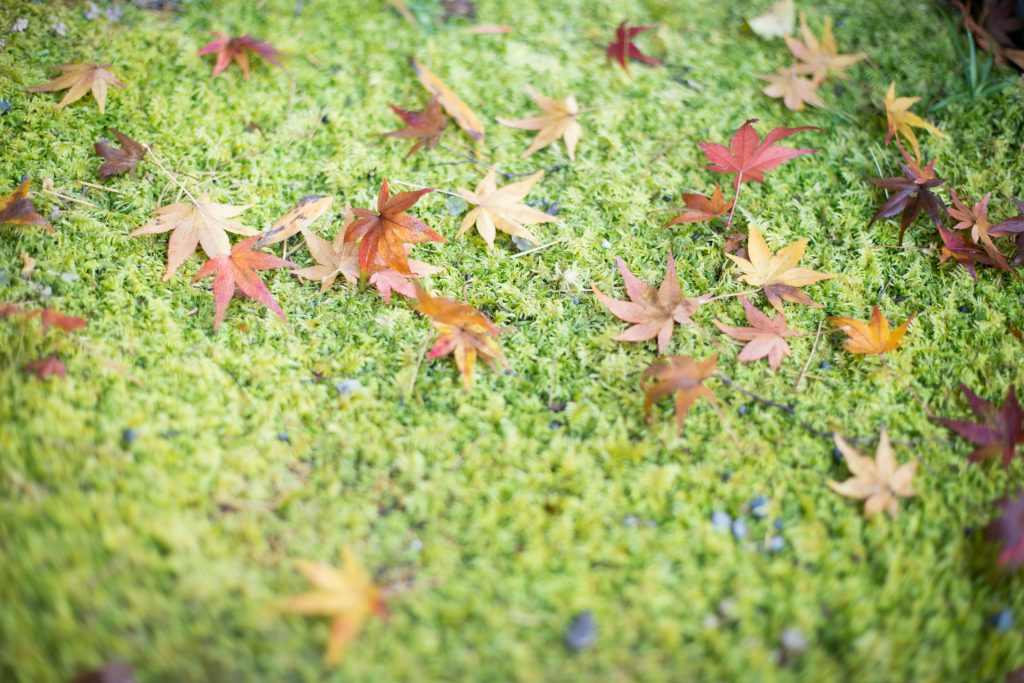 Spring and Autumn are the most popular seasons for destination weddings in Japan, hence slots for these seasons are usually booked up early.
Here we have one of our couples, V & J, who had dreamed of having a destination wedding in Japan from the very beginning. They approached us more than a year from their wedding date as soon as they can confirm their possible travel dates – which is perfect it will give them ample time to plan their trip 🙂
They wanted a local experience that is less known to tourist, hence had finally chosen to hold their ceremony at Awata Jinja as it is still a very traditional and local shrine, after giving them a few shortlisted venues.
The shrine is also still located within the central Kyoto, for the convenience of a few friends attending their wedding ceremony.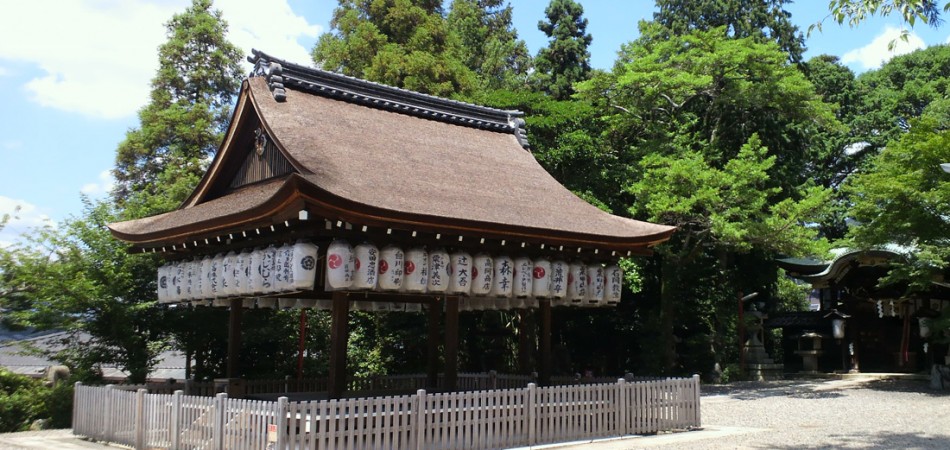 During the course of planning, the couple shared with us the activities that they wish to do in Japan and planned their trip outline and itinerary together. They were most excited about going to the Ghibli Museum! All tickets, meals on their itinerary were planned and reserved in advance and before we know it, one year of planning went by and it was time for them to fly over!
The couple arrived Kyoto a few days prior to the wedding day to settle down and for some preparations, such as kimono fitting, trial makeup etc.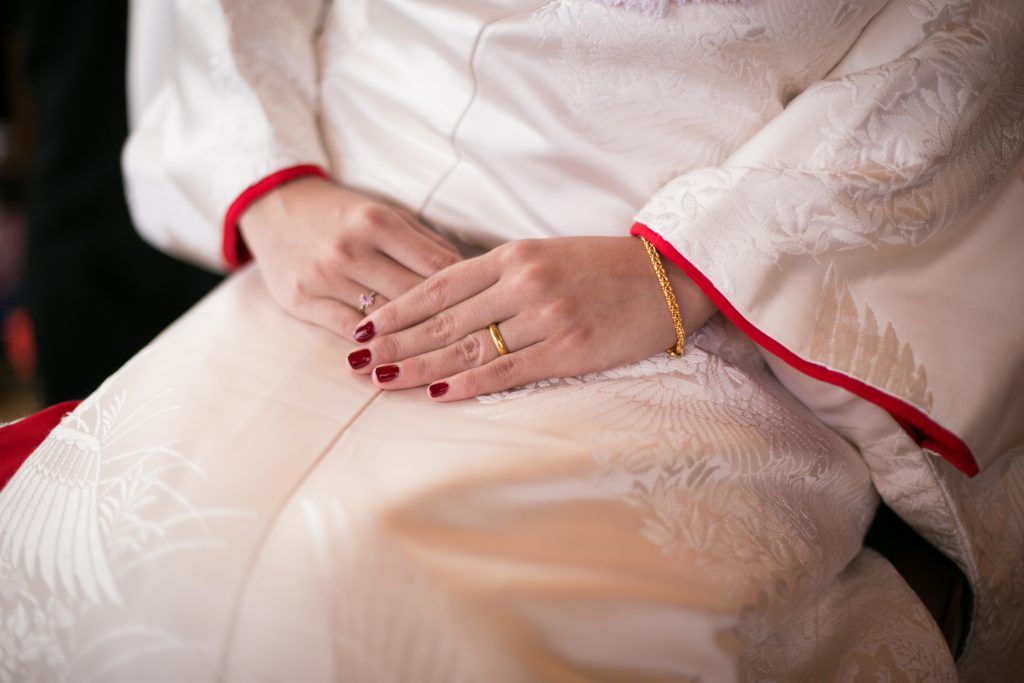 The bride chose to wear a classic Shiromuku (traditional white kimono for weddings) typically is more common for shrine ceremonies. There is also the option of colored Uchikake (colored wedding kimono), however most Japanese brides would wear that for the wedding receptions (for their second march in during lunch or dinner) or during photoshoots.
On the morning of the wedding day, transport was arranged to pick the couple up from their ryokan. We proceeded to bring them over to the bridal changing room within a Japanese Garden, for preparations. There the couple had their makeup done and outfits changed.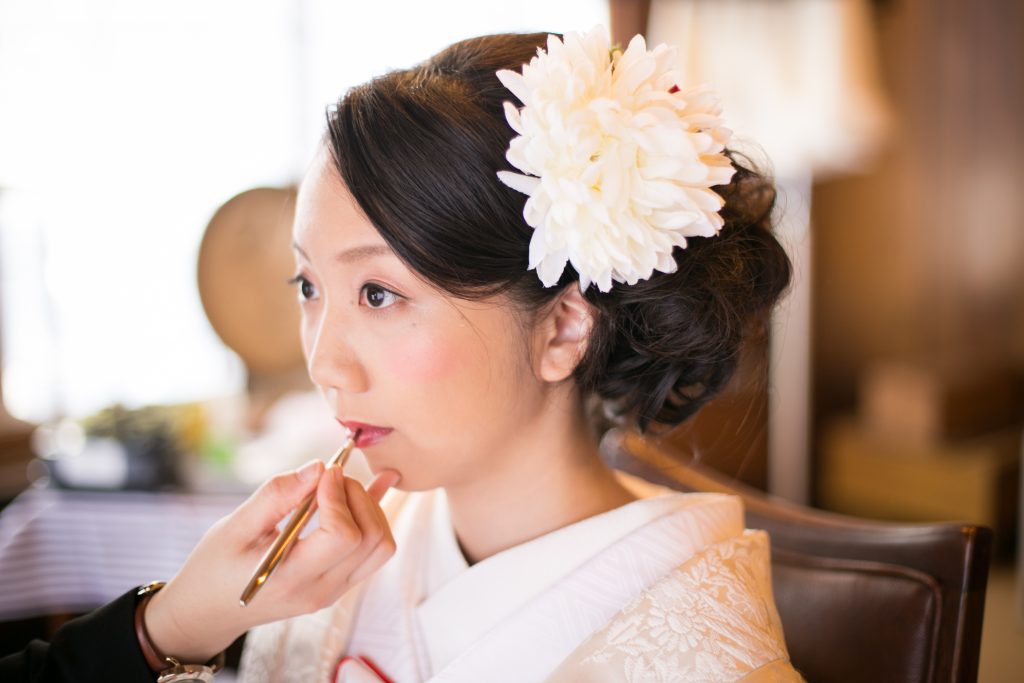 All done and ready for the day!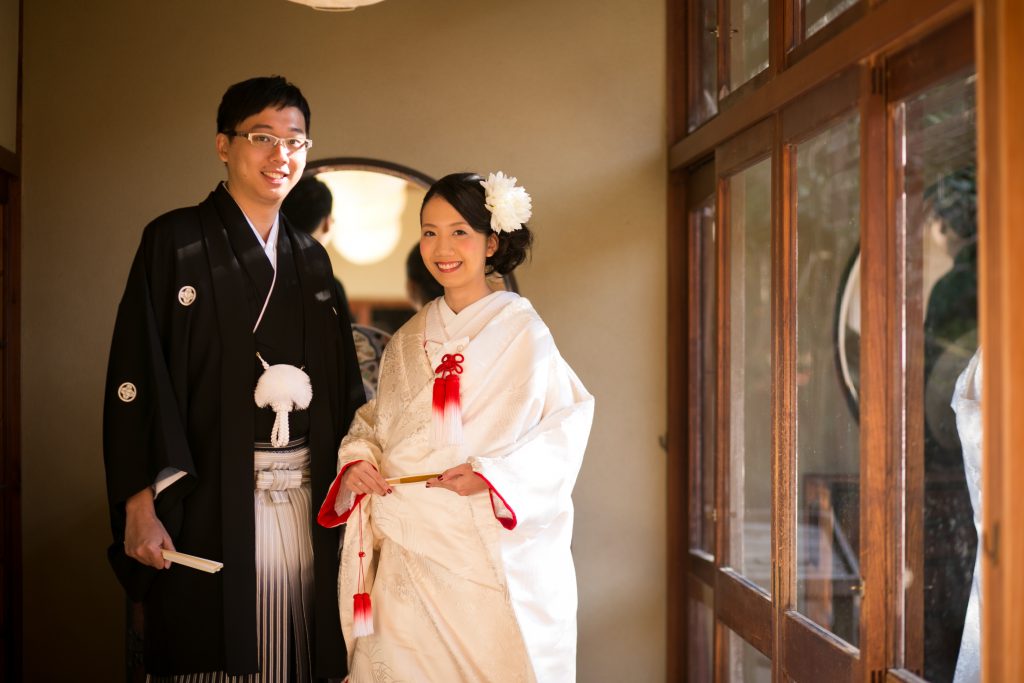 Spent about an hour to shoot within the garden against the beautiful autumn foliage, and during which another transport was sent to the ryokan again to pick up the guests and bring them to the wedding location.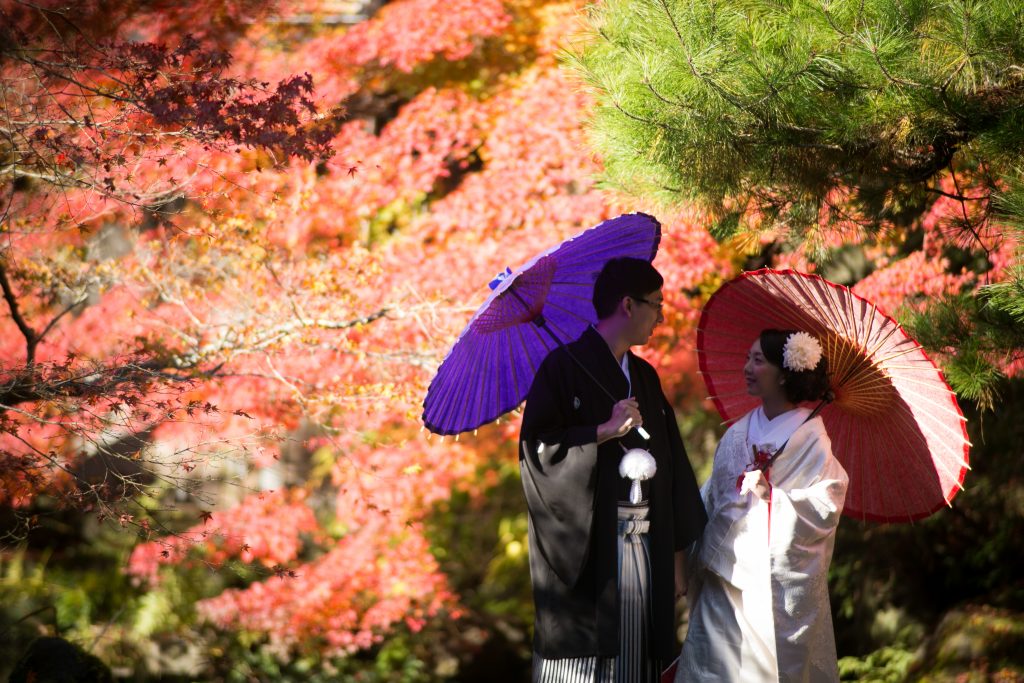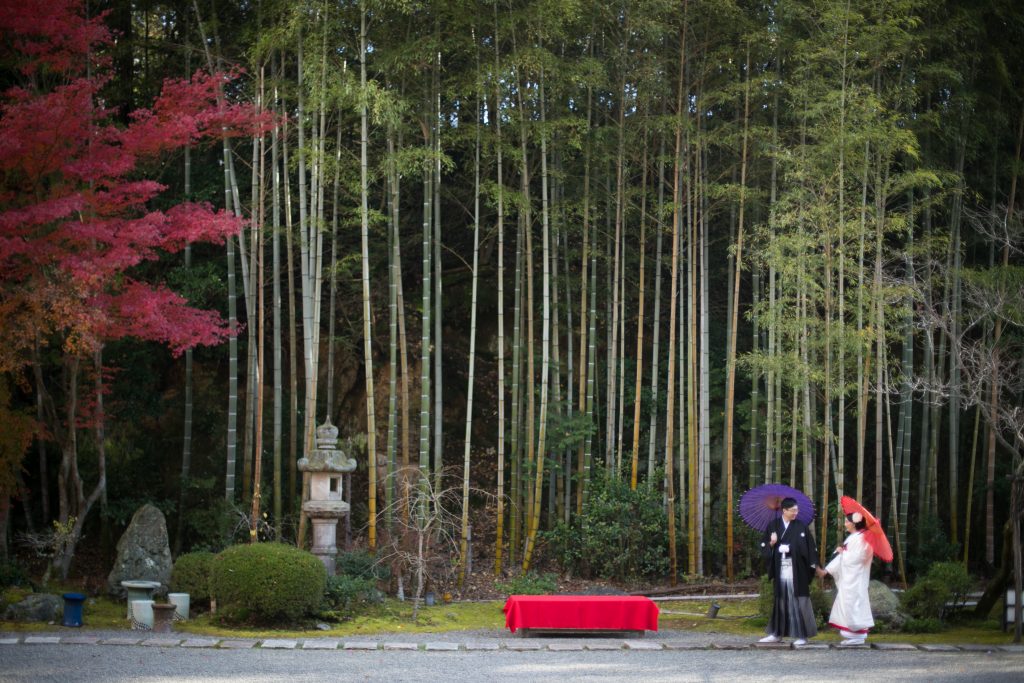 After the shoot, we brought the couple to the Shrine to prepare for the wedding ceremony.
By then, all the guests were already there, waiting for the couple's arrival and start of the unique experience.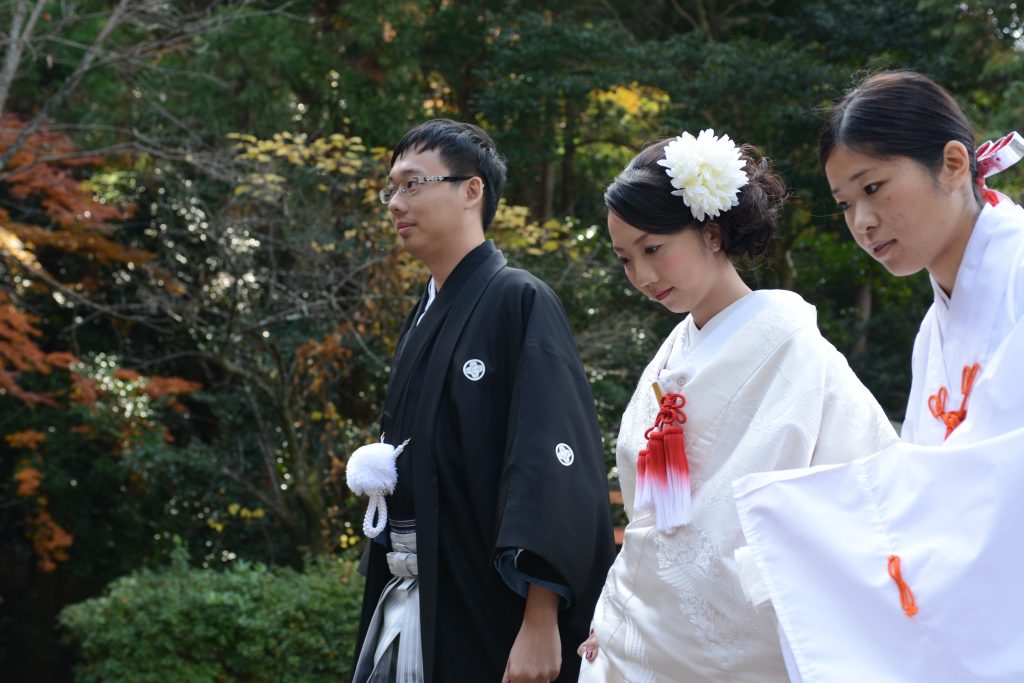 Typically, we will then have a briefing on the procedures of the ceremony, and what is expected of the couple to do during the ceremony. For V & J, they even did their homework and watched many ceremonies online prior to coming to Japan!
Sometimes some couples may start to feel nervous and worried about not being able to follow through the correct steps during the ceremony, but our advice is, please do not worry about it and enjoy the process thoroughly. The priest and ourselves will also be around during the ceremony to assist.
Some shrines in Japan provide the ceremony service in English, such as Kamigamo Shrine as it caters to a lot of foreign visitors to hold their wedding there. Hence if this is a priority, we would advise couples to check in advance.
For V & J, they wanted the full local experience hence the ceremony was conducted fully in Japanese. Of course, the procedures and meaning of each procedure was conveyed to them and their guests prior to the ceremony.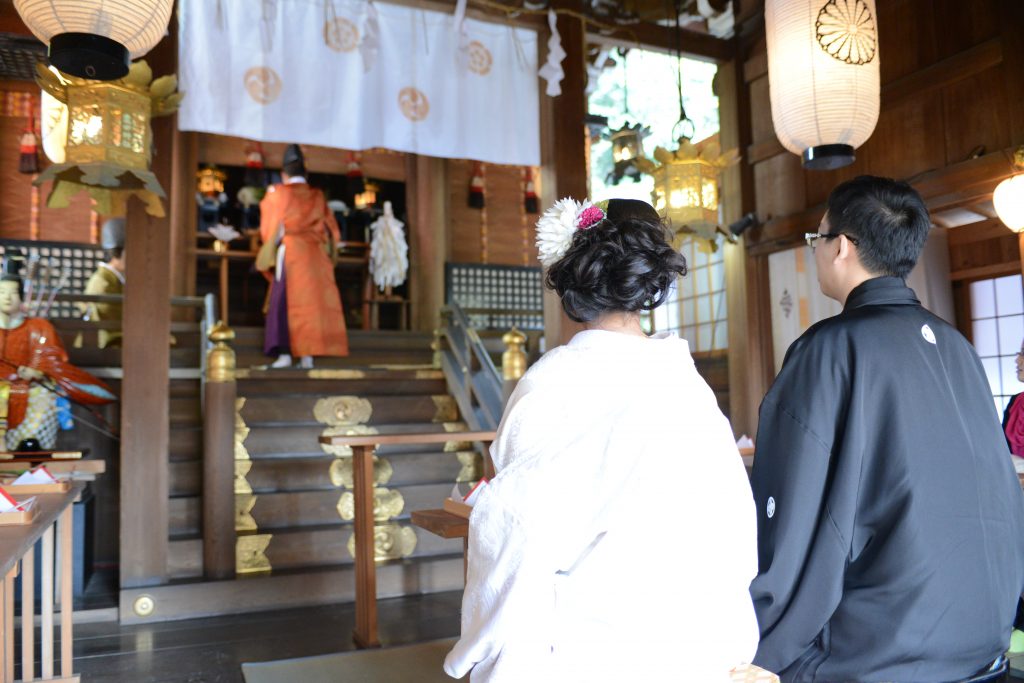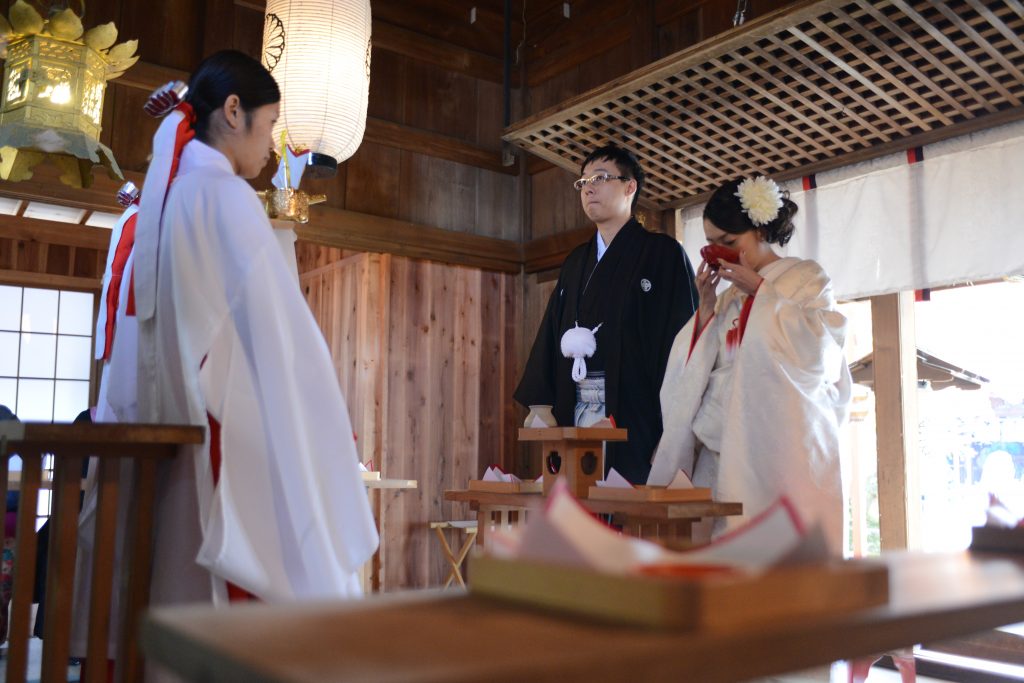 Some shrines may not allow phototaking during the ceremony or within a certain area of the shrine hence be sure to check in advance as well.
The ceremony generally takes only about 30 minutes, and it's always good to cater another 30-40 minutes for a quick photo shoot around the shrine, and with your guests.
After the ceremony for V & J, we went to the iconic spot of Kyoto – Ninenzaka for another short shoot. Since it was after the ceremony, they were a lot less uptight 🙂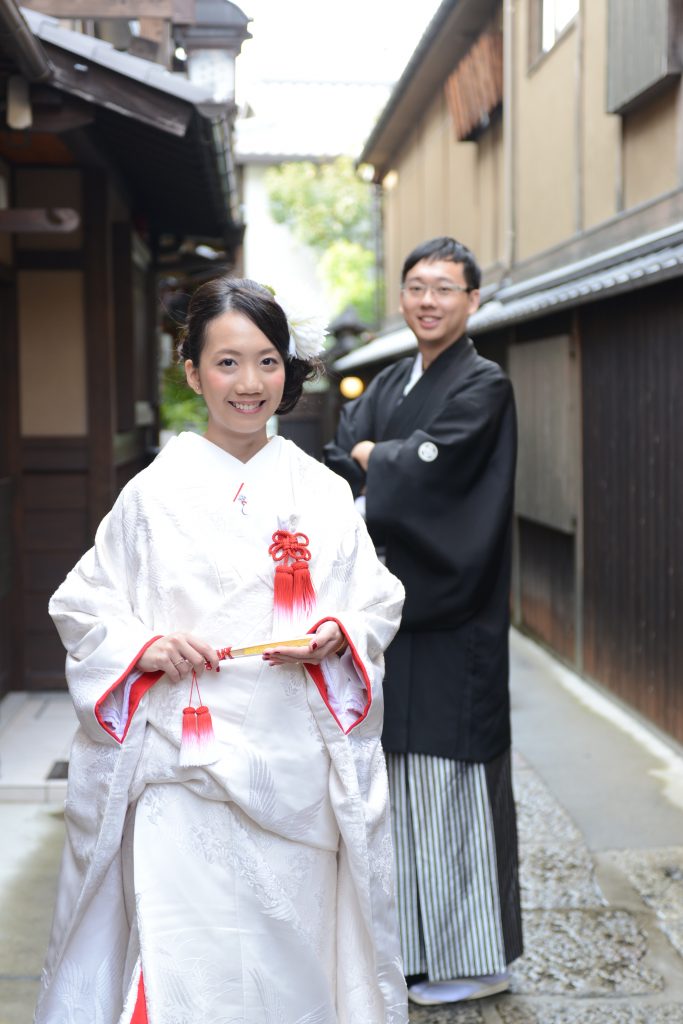 We then went back to hotel after the shoot and changed out of their kimonos.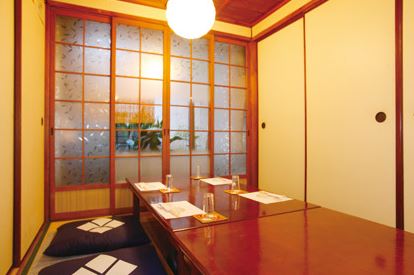 Dinner was at a local restaurant hidden in the streets of Gion, serving traditional Kyoto cuisine. We left the couple to enjoy the rest of the night with their guests thereafter 🙂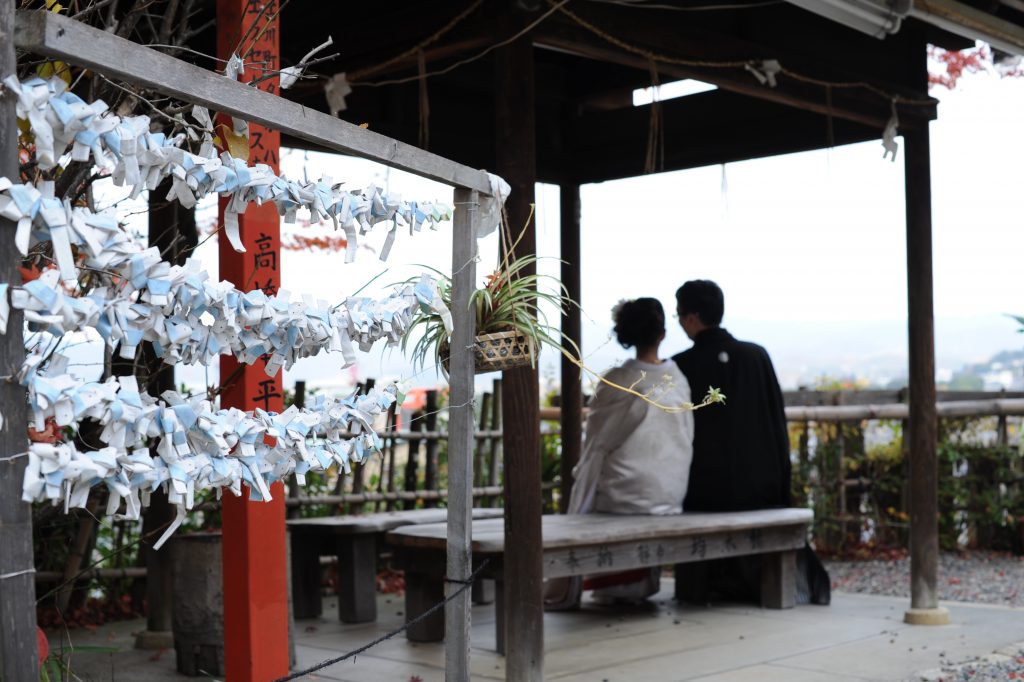 Caught up with the couple back in Singapore after the trip and they had very kindly left us a sweet note and feedback after the wedding.
It has been slightly over a year since our wedding in Kyoto, Japan. I still look at the photos regularly and they are so beautiful. The wedding experience at Awata Jinja shrine with close friends nearby as my husband and I got blessed by the priest and the god is inexplicably genuine and heartfelt.

Eternal Emotion's dedication to make our wedding experience the best is absolute and we are so lucky to have them planning everything. The kimono fitting was really fun and I was so tempted to get all of it! The photographers were very professional too and we got all the photos taken, all beautiful. The autumn season made Kyoto even more scenic than possible. And Yuki and Sharol also brought us to eat yummy food and catered for our plans and ideas within budget.

We felt very pampered and we hope to have another chance to work with Yuki and Sharol again if the chance permits! Thank you again for the experience.

Cheers,
V and J
We are really glad to hear that the experience was extra symbolic for them and their guests.
If you are considering to hold your destination wedding in Japan or simply wish to find out more, feel free to visit our main site or reach out directly to us here.
We do not have fixed wedding packages or plans, or day schedule as everything is customized, sourced and planned for according to each couple's preferences for that unique experience. So ask us anything about Japan weddings and we will be glad to answer to you. 🙂
Related links:
Beautiful Snow Wedding in Japan, Kyoto
Foreigners Legalizing Marriages in Japan